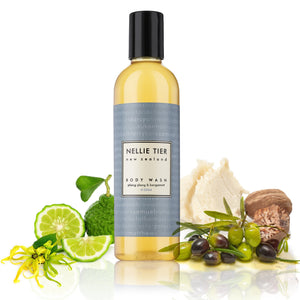 Nellie Tier Body Wash Ylang Ylang & Bergamot
Regular price
$29.90
$0.00
Unit price
per
Sensational body wash fortified with shea and cocoa butter
Nellie Tier is 100% New Zealand made and owned. Our entire range is free of parabens, sodium laurel sulphates and any harmful chemicals.
NELLIE TIER Body Wash
offers bathroom luxury and is increasingly the choice of top lodges throughout New Zealand. Made in the traditional Castile manner our Body Wash is more time consuming (and expensive) than most to produce but is the perfect option for those wanting products formulated from natural ingredients. Vegetable oils, and most particularly New Zealand Olive Oil, provide a good source of anti-oxidants and help moisturise and condition the skin. It is further enriched with Shea Butter. Blends of Pure Essential Oils perfume deliciously! Our Body Wash is made entirely from bio-degradable components (no detergents, tallow or animal fats) and is perfect for those committed to reducing environmental pollution. One word of warning, in very cold weather (below 10 degrees) like good olive oil the Body Wash can turn cloudy it is only temporary!
 

Ingredients:

Aqua (Distilled Water), Olea Europaea (Olive) Oil, Cocos Nucifera (Coconut) Oil, Potassium Hydroxide (Alkali solution), Ricinus Communis (Castor Bean) Oil, Glycerine (Vegetable BP Grade), Butyrospermum Parkii (Shea) Butter, Theobroma Cacao (Cocoa) Butter, Sodium Borate (Borax), Pure Essential Oil and Fragrance Blend, Rosmarinus Officinalis (Rosemary) Oleoresin
---